Bathrooms
As your design-build contractor in Mokena, our bathroom remodeling services create visually stunning, uber-comfortable bathrooms that support busy lifestyles.
In addition to supporting your daily routine, your home's bathroom should be a relaxing place where you can escape from life's stressors for a while. At JMI Construction Services Inc. we transform tired, outdated bathrooms into modern, spa-like escapes that make getting ready a breeze. While working with you to find the right style, size, and shape to fit your specific needs, our capabilities include master bathrooms, kids' bathrooms, guest bathrooms, full bathrooms, half bathrooms and more. From vanity and tile selection to plumbing fixtures and storage solutions, we use a detail-oriented project management approach to bring all your bathroom dreams seamlessly together.
When it's time for a bathroom update, your renovation options include a total remodel, making your bathroom bigger, adding a new bathroom, creating a senior-friendly bathroom, adding a soaker tub, Jacuzzi or walk-in shower, and more. If you're still undecided as to which option is right for you, our knowledgeable design consultants are here to help.
As your luxury kitchen designer in New Lenox, JMI Construction Services can help you choose the right materials, colors, and finishes to achieve your desired look. From design consultation and product selection to final walk-through, we'll create an elegant bathroom customized to fit your style and budget.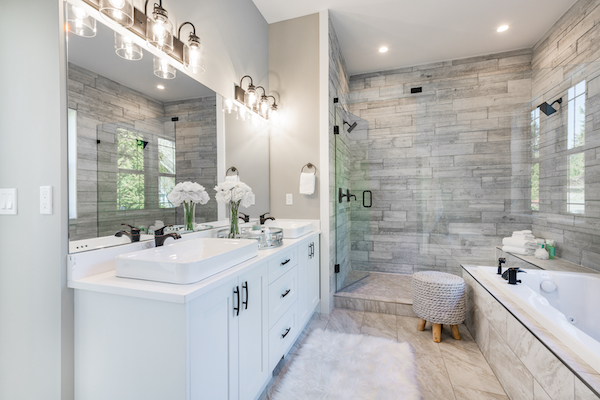 Raising the Standards One Job At A Time For More Than a Decade
Top-Rated Bathroom Renovation Services in Frankfort
At JMI Construction Services, we understand that your home reflects your unique vision and lifestyle. With 10+ years of experience, we specialize in building custom bathrooms that support busy lifestyles while boldly standing the test of time. We're here to help you improve your home's functionality, aesthetics, and value so it provides you with years of enjoyment.
Our design-build bathroom capabilities include, but are not limited to:
Vanity & Countertops

Custom Tile Work

Flooring

Lighting & Fixtures

Custom Cabinetry

Bath & Shower Doors