Kitchens
Our professional kitchen remodeling services provide you with a wide array of design, style, and material options to bring your dream kitchen breathlessly to life.
As its proverbial heart, transforming your kitchen space into a beautiful, functional, and efficient area can have a significant impact on your quality of life and your home's overall value. At JMI Construction Services Inc. in Mokena, our team of experienced professionals understands how vital a kitchen is to your home. We're dedicated to providing you with a personalized experience that prioritizes your satisfaction. Whether you want a galley kitchen, L-shaped kitchen, open floor plan kitchen, outdoor kitchen, or something else, our goal is to offer innovative design-build solutions that meet or exceed your unique needs and personal preferences.
Kitchen remodels can be complicated. At JMI Construction Services, we manage the entire kitchen remodeling process while keeping you updated with information regarding pricing and project timing. Our dedicated team of skilled professionals will be at your side every step of the way to ensure your dream kitchen comes stunningly together. As an established kitchen remodeling contractor, we pride ourselves on delivering high-quality workmanship and exceptional customer service on every kitchen project we complete.
Whether your decor is modern, traditional, or something in between, we'll help you choose the right materials, colors, and finishes to achieve your desired look. From design consultation and product selection to final walk-through, JMI Construction Services will create a luxury kitchen customized to fit your style and budget.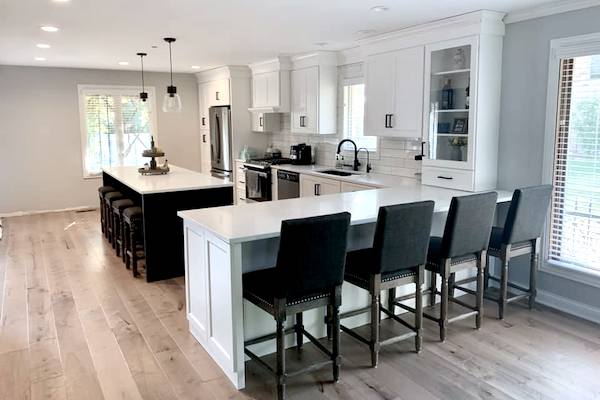 Raising the Standards One Job At A Time For More Than a Decade
Kitchen Renovation Experts in Frankfort & New Lenox
At JMI Construction Services, we understand that your home reflects your unique vision and lifestyle. With 10+ years of experience, we specialize in building custom kitchens that support busy lifestyles while boldly standing the test of time. We're here to help you improve your home's functionality, aesthetics, and value so it provides you with years of enjoyment.
Our design-build kitchen capabilities include, but are not limited to:
Cabinetry

Countertops & Backsplash

Flooring

Lighting & Fixtures

Appliance Selection & Installation

Sink & Range Hood